Options
Mark as unread

Mark as read

Float to top

Bookmark

Subscribe (email)

by

TiffJ
EE Community Manager
EE is launching the UK's first 5G service in six cities, with more to come
‎22-05-2019 10:38 AM - edited ‎30-05-2019 12:31 PM
I'm really excited to share that EE has today announced the launch of 5G in the UK, with new 5G plans, a range of six new 5G smartphones and devices, and 5G available starting in six cities:
London, Birmingham, Cardiff, Manchester, Edinburgh and Belfast.
From today, consumers and businesses can buy the new devices, including smartphones from Samsung, OnePlus, LG, and OPPO. We're announcing a 5GEE WiFi and 5GEE home broadband with pricing and availability to follow.
The new 5G Smart plans will give you access to the UK's first 5G network, BT Sport HD HDR, and an exclusive Gamer's Data Pass with zero-rated data, as well as the chance to upgrade anytime, and get a device warranty for the duration of your contract.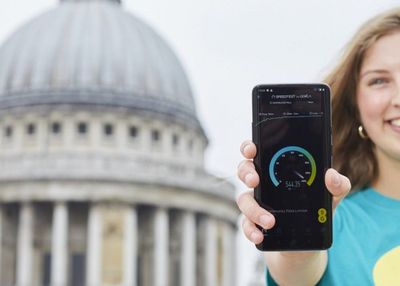 Speed testing in central London
When does 5G launch?
EE's 5G network will be switched on in the six launch cities on Thursday 30th May.
We're adding 5G to the UK's number one 4G network to increase reliability, increase speeds, and keep our customers connected where they need it most. 5G will create new experiences with augmented reality, make our customers' lives easier, and help launch entirely new businesses that we haven't even imagined. We're upgrading more than 100 sites to 5G every month from today to connect more places to what 5G can enable.
The UK's First 5G Network
EE is launching 5G in the busiest parts of the UK, where 5G can really make a difference by providing a more reliable data connection to businesses and consumers. We expect customers to experience an increase in speeds of around 100-150Mbps even in the busiest areas, and some customers will break the one gigabit-per-second milestone on their 5G smartphones. To put this into context: The fastest speed possible when EE launched 4G in 2012 was just 50Mbps.
In addition to the six launch cities, in 2019 we will also be introducing 5G across the busiest parts of Bristol, Coventry, Glasgow, Hull, Leeds, Leicester, Liverpool, Newcastle, Nottingham and Sheffield.
And in 2020, even more towns and cities will get 5G sites including: Aberdeen, Cambridge, Derby, Gloucester, Peterborough, Plymouth, Portsmouth, Southampton, Worcester and Wolverhampton.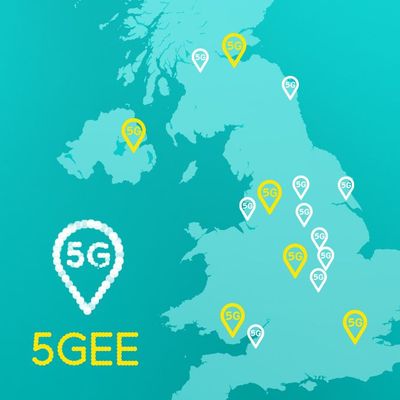 5G rollout map
5G is built on top of EE's award winning 4G network – customers will connect to both 4G and 5G at the same time to get the best possible experience, even in the most crowded areas.
See the 5G launch city coverage in detail >
What about 4G?
As well as upgrading more than 100 sites to 5G every month, EE is expanding 4G coverage into rural areas, and adding more capacity to 4G sites by turning 3G signal into 4G to enable more spectrum for a better network experience wherever EE customers go.
The techie bit
This is Phase 1 of EE's 5G rollout: a 'non-standalone' deployment focused on using the combined power of 4G and 5G to give customers the fastest, most reliable mobile broadband experience they've ever had.
Phase 2, from 2022, will introduce the full next generation 5G core network, enhanced device chipset capabilities, and increased availability of 5G-ready spectrum. Higher bandwidth and lower latency, coupled with expansive and growing 5G coverage, will enable a more responsive network, enabling truly immersive mobile augmented reality, real-time health monitoring, and mobile cloud gaming. Phase 2 is also a vital step on our journey to the convergence of our network technologies, as we bring together fixed, mobile and WiFi into one seamless customer experience.
Phase 3, from 2023, will introduce Ultra-Reliable Low Latency Communications (URLLC), Network Slicing and multi-gigabit-per-second speeds. This phase of 5G will enable critical applications like real-time traffic management of fleets of autonomous vehicles, massive sensor networks with millions of devices measuring air quality across the entire country, and the 'tactile internet', where a sense of touch can be added to remote real-time interactions.
Cutting-Edge Partnerships - the really fun bit!
EE is also announcing new partnerships with some of the world's most innovative companies that will help develop new 5G experiences.
Google for Startups Campus Powered by EE 5G: Today we're pleased to announce we are working with EE to bring 5G to Google for Startups Campus in London. We're incredibly excited to give developers and the Campus community an environment to experience the power of 5G first hand and to develop the next generation of transformative apps and experiences.
Experience Harry Potter: Wizards Unite with EE: EE is also announcing that it is partnering with Niantic to be the exclusive telecom launch partner in the UK for Harry Potter: Wizards Unite. Co-published and co-developed by WB Games San Francisco and Niantic, Inc, Harry Potter: Wizards Unite is an upcoming augmented reality (AR) real-world mobile title under the Portkey Games label. As part of the partnership, EE customers will have the chance to experience exclusive Harry Potter: Wizards Unite content. EE locations will appear in the game as sponsored Inns and Fortresses with higher reward payout and special quests that'll be announced at launch. EE and Niantic will also be working together to ensure the best in-game experiences on 5G in the future.
Are you as excited by this as we are? Let us know below!