Options
Mark as unread

Mark as read

Float to top

Bookmark

Subscribe (email)
Highlighted

by

TiffJ
EE Community Manager
5G - your questions answered
‎29-04-2019 02:57 PM - last edited on ‎31-05-2019 09:18 AM by Leanne_T
5G is here and it's bringing faster speeds, almost instant connections and an altogether better mobile experience. There's lots to love and learn about this exciting new technology, so we've answered some of your most asked 5G questions below:
What is 5G?
5G is the next generation of mobile network technology. It offers a more reliable signal in busy places, speeds like you've never seen before and an almost instant connection to the content you love.
5G isn't replacing 4G, it's working with it for an unparalleled new experience. We're building it where our customers need it most: in the busiest spots, in the busiest cities.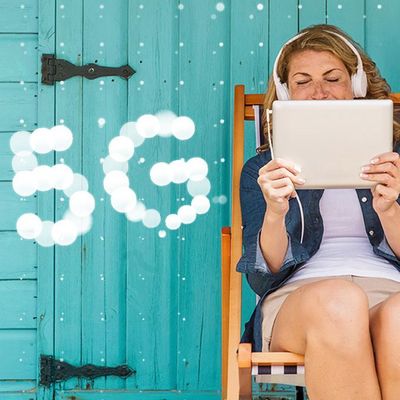 What are the benefits of 5G?
Better connection in busy places: Sometimes in busy places, your connection can slow down or not work at all. When too many people are trying to connect in one place at one time, networks reach their limits. When there's 5G, our network will give you a more reliable connection in the busiest places. You can video call, stream and download at busy train stations, festivals and stadiums.
Faster speeds, better quality: 5G offers faster mobile speeds than ever before. So you can download movies faster, stream in the highest resolution and enjoy better video calls.
Instant connection: 5G gives you an almost instant internet connection. It makes everyday tasks feel super quick, and bridges the gap between the physical and digital worlds with amazing new augmented and virtual reality experiences.
What does 5G mean for the 4G network?
By adding 5G to our network, we're making the UK's best network even better. As well as launching 5G where customers need it most, we are committed to expanding our 4G coverage to make the UK's best network even better.

We'll keep rolling out 4G coverage into new areas of the UK that have never had a high-speed mobile data connection before, including remote and rural communities.

Plus we are continuing to increase 4G coverage indoors and make it available in more places that make a massive difference to customers - like on trains.
What is exciting about the future of 5G?
5G has all sorts of possibilities and what's really exciting is that we don't even know what some of those are yet. It will be at the heart of factory and home automation, differentiated gaming experiences and the driverless car revolution. And with 5G-powered AR we'll see our physical and digital lives merge (the earliest example of this is Pokemon Go, where Pokemon appeared in *your* world).
But that's just the start of what's possible! Information and entertainment will be brought to life digitally, and blended with the real world around you to make your life better and easier. 5G will create incredible new 'immersive' experiences, where it's not even possible to tell the difference between the real world and the digital world. And we'll see customers connecting their devices wherever they are to do more of the things they love.
What speeds can I expect with 5G?
With 5G, customers will reach a major milestone: 1 Gigabit per second speeds to their smartphones. Average speeds will be between 100 and 300Mbps, download times for songs will halve to 10 seconds and HD movies will be available in less than a minute. Plus you'll always have the highest resolution when you're streaming video.
Where are you launching 5G?
In 2019 we'll be switching on 5G sites in 16 UK cities. The first launch cities will be the UK's four capitals – London, Cardiff, Edinburgh and Belfast – as well as Birmingham and Manchester.
Throughout 2019 we'll also be introducing 5G across ten more UK cities: Glasgow, Newcastle, Liverpool, Leeds, Hull, Sheffield, Nottingham, Leicester, Coventry and Bristol.
For the most up to date information, visit our 5G hub >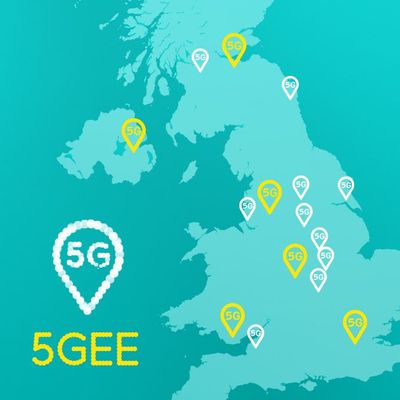 When will 5G arrive in my area?
We're upgrading 100 sites to 5G every single month, and we're doing it in the busiest parts of the busiest cities. We're also upgrading our 4G capacity and coverage to ensure that everyone's connection keeps getting better.
You can check 5G coverage roll out plans by visiting the 5G hub >
And check existing coverage by visiting our mobile coverage checker >
Why isn't 5G launching in my area?
For launch, our plan is to build 5G in the busiest spots of the busiest cities in the UK where our customers need it the most – and then continue a nationwide roll out. Please keep an eye on our roll out plan if you're interested in 5G.

For more information on future roll out visit our 5G hub>
Is 5G roll out in cities only or are you rolling out to other places?
We are building 5G in the busiest places - where there is the greatest need for the extra capacity. We'll have 1,500 5G sites across 16 cities by the end of 2019, and we're upgrading more than 100 sites every month so 5G will get more and more widespread over the next few years. We are also continuing our 4G rollout to connect more rural people and places. We already have more 4G coverage than any other operator, and we're expanding coverage every month.
If you have any questions or comments please let us know by hitting "reply" below and we'll do our best to help.