Options
Mark as unread

Mark as read

Float to top

Bookmark

Subscribe (email)

by
anastiebyte
Visitor
Using phone sim in router in caravan
3 weeks ago
I know from searching I can swap my iPhone sim and put it in a 4G router when I'm away in the caravan. I get 100GB data a month so more than enough to stream Netflix onto TV when away.
My question is: Is it as simple as taking the sim out of my iPhone X and putting it in the router (I presume router would need initial setup?) Then when finished I take the sim out of my router and return it to my iphone? Does this change any settings or is it swap and play between each device.
I did tether the TV in the caravan to my phone but recently (since IOS update?) this is not always seen by TV when searching and disconnects hence I prefer the router idea.
Highlighted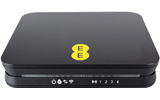 by
XRaySpeX

Grand Master
Re: Using phone sim in router in caravan
3 weeks ago
Yes, it's that simple. Just switch the SIM around if it fits.
__________________________________________________________________________________________
If you think I helped please feel free to hit the "Thumbs Up" button below.

To phone EE: The local rate landline number +44 207 362 0200 or Freephone +44 800 079 8586 - Option 1 for Mobiles; Option 2 for 4G WiFi; Option 3 for Home Broadband & EE TV.

ISPs: 1999: Freeserve 48K Dial-Up => 2005: Wanadoo 1 Meg BB => 2007: Orange 2 Meg BB => 2008: Orange 8 Meg LLU => 2010: Orange 16 Meg LLU => 2011: Orange 20 Meg WBC => 2014: EE 20 Meg WBC