Options
Mark as unread

Mark as read

Float to top

Bookmark

Subscribe (email)
4gee mini wifi - sim expired
4 weeks ago
I have a mini wifi with a 24g sim. I started using it and it worked for one day. It then said it had expired.
Does that mean I used the 24g in one day, or was the sim old and ran out just as I started using it? I dont know how old the sim was (I have just moved into a new build and the developer gave it to me as their infrastructure in the building is not quite ready for normal wifi use via other means).
The day I used the hub I think the TV was on and connected for no more than five hours. I only have a mobile phone, and no computer or gaming.
Many thanks for any advice you can give me.
Highlighted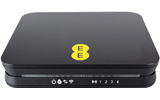 by
XRaySpeX

Grand Master
Re: 4gee mini wifi - sim expired
4 weeks ago
What does http://add-on.ee.co.uk/purchase when not connected to WiFi offer you?
__________________________________________________________________________________________
If you think I helped please feel free to hit the "Thumbs Up" button below.

To phone EE: The local rate landline number +44 207 362 0200 or Freephone +44 800 079 8586 - Option 1 for Mobiles; Option 2 for 4G WiFi; Option 3 for Home Broadband & EE TV.

ISPs: 1999: Freeserve 48K Dial-Up => 2005: Wanadoo 1 Meg BB => 2007: Orange 2 Meg BB => 2008: Orange 8 Meg LLU => 2010: Orange 16 Meg LLU => 2011: Orange 20 Meg WBC => 2014: EE 20 Meg WBC
Re: 4gee mini wifi - sim expired
4 weeks ago
Re: 4gee mini wifi - sim expired
3 weeks ago
I dont understand what you mean. i turned off the wifi on my laptop, but then i cant load the page to see what you are referring to?
i tried to do it through a different mobile as a hotspot, but it didnt really do anything either.
sorry but am confused as to what i am meant to be doing!
Re: 4gee mini wifi - sim expired
3 weeks ago
If the page isn't working for you, it may be worth speaking to our Tech Gurus, @donnacrow.
They'll be able to help. Let us know how you get on.

Chris