Options
Mark as unread

Mark as read

Float to top

Bookmark

Subscribe (email)
by
TomParsnips
New Member
topping up data to a d-link dongle
a week ago
hello there, I managed to add £20 to my d-link dongle online earlier using credit card. i an see that there is £20 credit but it isnt showing as data. have i done it wrong? is there a way to transfer it? im lost!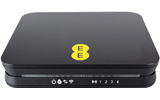 by
XRaySpeX

Grand Master
Re: topping up data to a d-link dongle
a week ago
What does http://add-on.ee.co.uk/purchase offer you?
__________________________________________________________________________________________
If you think I helped please feel free to hit the "Thumbs Up" button below.

To phone EE: The local rate landline number +44 207 362 0200 or Freephone +44 800 079 8586 - Option 1 for Mobiles; Option 2 for 4G WiFi; Option 3 for Home Broadband & EE TV.

ISPs: 1999: Freeserve 48K Dial-Up => 2005: Wanadoo 1 Meg BB => 2007: Orange 2 Meg BB => 2008: Orange 8 Meg LLU => 2010: Orange 16 Meg LLU => 2011: Orange 20 Meg WBC => 2014: EE 20 Meg WBC