Options
Mark as unread

Mark as read

Float to top

Bookmark

Subscribe (email)
by
Bachman
Explorer
a month ago
When I'm on 4G, twitter and Facebook apps don't update but they do when I'm on WiFi. I have tried resetting network settings, reinstalling apps, upgrading to latest IOS and have checked all obvious settings. I also don't have content locks on my number.
Today I tried my wife's sim card in MY phone and lo and behold Twitter etc... loaded fine on 4g. The problem must therefore be with my sim/number but I don't know what to try to fix that (as I can't see any content locks applied that would stop twitter).
Any ideas?
1 SOLUTION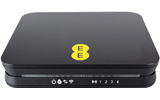 by
XRaySpeX

Grand Master
Solution
a month ago
Could be your Switching Content Lock OFF or ON . It is switched on on new & upgraded contracts & seems to affect social sites. If just switching it OFF doesn't help, try switching it to STRICT, reboot your device and then switching it to OFF. That is seeming to do the trick.
__________________________________________________________________________________________
If you think I helped please feel free to hit the "Thumbs Up" button below.

To phone EE: The local rate landline number +44 207 362 0200 or Freephone +44 800 079 8586 - Option 1 for Mobiles; Option 2 for 4G WiFi; Option 3 for Home Broadband & EE TV.

ISPs: 1999: Freeserve 48K Dial-Up => 2005: Wanadoo 1 Meg BB => 2007: Orange 2 Meg BB => 2008: Orange 8 Meg LLU => 2010: Orange 16 Meg LLU => 2011: Orange 20 Meg WBC => 2014: EE 20 Meg WBC