Options
Mark as unread

Mark as read

Float to top

Bookmark

Subscribe (email)

by
Paigemartinxo
New Member
a month ago
I have data, plenty of data 17gb.. but when I'm not connected to WiFi I can't use any social media, Instagram.. Facebook, Snapchat's none of the pictures load, and when I get sent pictures through WhatsApp none of them load and I am unable to send picture also I get the red x straight away.
can anyone help? It would be appreciated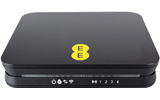 by
XRaySpeX

Grand Master
Re: Social media not working
a month ago
@Paigemartinxo : : Could be your Switching Content Lock OFF or ON . It is switched on on new & upgraded contracts & seems to affect social sites. If just switching it OFF doesn't help, try switching it to STRICT, reboot your device and then switching it to OFF. That is seeming to do the trick.
__________________________________________________________________________________________
If you think I helped please feel free to hit the "Thumbs Up" button below.

To phone EE: The local rate landline number +44 207 362 0200 or Freephone +44 800 079 8586 - Option 1 for Mobiles; Option 2 for 4G WiFi; Option 3 for Home Broadband & EE TV.

ISPs: 1999: Freeserve 48K Dial-Up => 2005: Wanadoo 1 Meg BB => 2007: Orange 2 Meg BB => 2008: Orange 8 Meg LLU => 2010: Orange 16 Meg LLU => 2011: Orange 20 Meg WBC => 2014: EE 20 Meg WBC