Options
Mark as unread

Mark as read

Float to top

Bookmark

Subscribe (email)

by
BrendonH

Brilliant Contributor
‎30-01-2019 06:01 PM - edited ‎30-01-2019 06:03 PM
I am on chat to EE who can't find any issues but I have a notification (see below) Saying my data services have been turned off by my operator. The EE rep states they haven't sent this or can see I haven't been cut off.
Before anyone asks. Yes I am fully paid up on my bills. My last bill was produced 4 days ago and that money goes out as normal by DD on 3rd of every month. (It is only £10 anyway)
What is going on?
Since typing this up I have lost connection to chat twice having to start afresh each time.
EDIT: Yes I can see I have H+ symbol but I should be getting 4G and I average in speeds of 60Mbs
This is happening on both my phone and my wifes (both numbers on same account)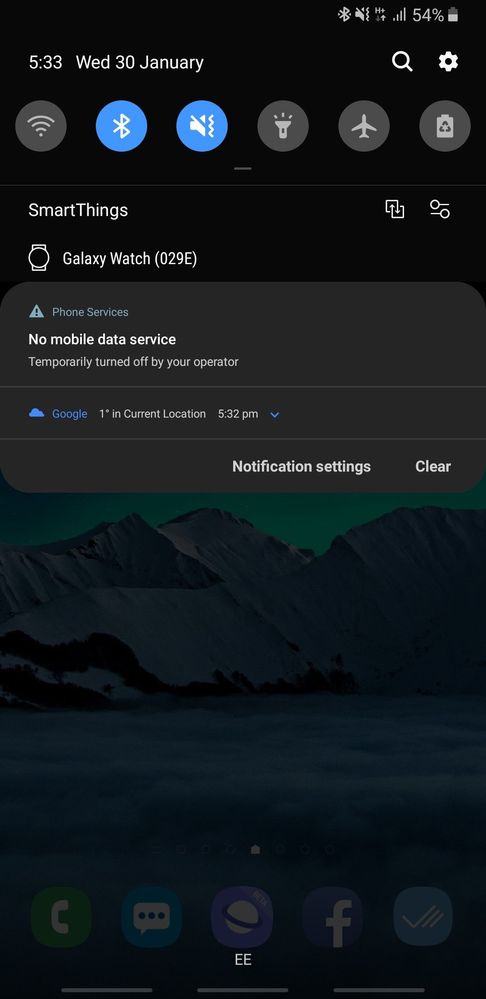 BrendonH (Android Expert) Samsung Galaxy S10+ (Pie 9.0)
If I have helped please click the THUMB/SOLUTION buttons below