Options
Mark as unread

Mark as read

Float to top

Bookmark

Subscribe (email)
a week ago
Hi. I have a huawei b525 router with a 4g we SIM card on pay monthly. It works great and I have both ipv4 and ipv6 working well.
i have decided to use a tplink deco m5 as the router (as it has brilliant child and firewall controls) and put the b525 into bridge mode. The problem is that under automatic settings on the deco m5 I lose the ipv6 connectivity.
So there is a setting in the deco m5 ipv6 settings that isn't right. Please can you tell me with as much detail as you can as to what specifically the ipv6 settings should be. thanks
---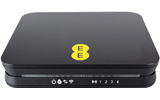 by
XRaySpeX

Grand Master
a week ago
What does the Profile/APN settings page look like on TP-Link router?
__________________________________________________________________________________________
If you think I helped please feel free to hit the "Thumbs Up" button below.

To phone EE: The local rate landline number +44 207 362 0200 or Freephone +44 800 079 8586 - Option 1 for Mobiles; Option 2 for 4G WiFi; Option 3 for Home Broadband & EE TV.

ISPs: 1999: Freeserve 48K Dial-Up => 2005: Wanadoo 1 Meg BB => 2007: Orange 2 Meg BB => 2008: Orange 8 Meg LLU => 2010: Orange 16 Meg LLU => 2011: Orange 20 Meg WBC => 2014: EE 20 Meg WBC
a week ago
I don't have the apn settings on the deco m5 router as I have the b525 in bridge mode, it has the apn settings in there, which I know are fine as out of bridge mode the ipv6 works fine