Options
Mark as unread

Mark as read

Float to top

Bookmark

Subscribe (email)

by
PP1231
Explorer
a month ago
Can I use my data in France with my current data pack, or do I need to buy add-ons? Is the step just text roaming to 150? And when I come back to the UK what should I do then?
1 SOLUTION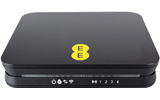 by
XRaySpeX

Grand Master
Solution
a month ago
Yes, it is part of EU. You may use your usual allowances there with up to 15 GB data per billing month if you have more.
Are you on contract or PAYG? If PAYG, you don't text ROAMING to 150; PAYG is auto enabled for roaming..
__________________________________________________________________________________________
If you think I helped please feel free to hit the "Thumbs Up" button below.

To phone EE: The local rate landline number +44 207 362 0200 or Freephone +44 800 079 8586 - Option 1 for Mobiles; Option 2 for 4G WiFi; Option 3 for Home Broadband & EE TV.

ISPs: 1999: Freeserve 48K Dial-Up => 2005: Wanadoo 1 Meg BB => 2007: Orange 2 Meg BB => 2008: Orange 8 Meg LLU => 2010: Orange 16 Meg LLU => 2011: Orange 20 Meg WBC => 2014: EE 20 Meg WBC