Options
Mark as unread

Mark as read

Float to top

Bookmark

Subscribe (email)
by
Mark48
Visitor
a month ago
Hi I am holiday in Australia for a month and in a max plan with about 80+Gb of data that I normally have access to. I need to data gift from one phone to another but the gifting section in family sharing won't work. It just stated we don't have information your requesting right now so try later. Being saying this for 3 days now. What's the fix guys. Iv tried turning phone on/off/on. Re logging in etc.
thanks in advance
Re: Data gifting not working
a month ago
Good Afternoon @Mark48.
Thanks for coming to the community.
Unfortunately if you are currently outside of the UK you won't be able to gift data as you are roaming.
Katie 🙂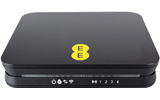 by
XRaySpeX

Grand Master
Re: Data gifting not working
a month ago
@Katie_B : You sure about that?
Gifting Your Data - Terms & Conditions
If a customer is outside their price plans standard countries when their monthly allowances refresh on their bill date, You will not be able to gift data until they return to the UK/EU.
Australia is within the EE Max Plan countries.
In fact, your statement about even being outside UK is incorrect.
__________________________________________________________________________________________
If you think I helped please feel free to hit the "Thumbs Up" button below.

To phone EE: The local rate landline number +44 207 362 0200 or Freephone +44 800 079 8586 - Option 1 for Mobiles; Option 2 for 4G WiFi; Option 3 for Home Broadband & EE TV.

ISPs: 1999: Freeserve 48K Dial-Up => 2005: Wanadoo 1 Meg BB => 2007: Orange 2 Meg BB => 2008: Orange 8 Meg LLU => 2010: Orange 16 Meg LLU => 2011: Orange 20 Meg WBC => 2014: EE 20 Meg WBC
Re: Data gifting not working
a month ago - last edited a month ago
Hi @Mark48.
If the option is greyed out either you or the recipient is not on an eligible price plan to gift data whilst roaming.
Can you please confirm if you are looking to gift data your SIM or looking to gift data to another SIM on your account?
Are you set up as the account holder?
What plan are both SIMs on?
Speak shortly,
Katie 🙂