Options
Mark as unread

Mark as read

Float to top

Bookmark

Subscribe (email)

by
Sauljones
Visitor
a week ago
Hi. Contract sim. 2yrs old. Always had content lock off. Now blocking me saying content lock issue. I go to my account and it's off. Any ideas?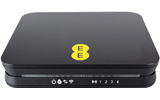 by
XRaySpeX

Grand Master
a week ago
@Sauljones : If just switching it OFF doesn't help, try switching it to STRICT, reboot your device and then switching it to OFF. That is seeming to do the trick.
__________________________________________________________________________________________
If you think I helped please feel free to hit the "Thumbs Up" button below.

To phone EE: The local rate landline number +44 207 362 0200 or Freephone +44 800 079 8586 - Option 1 for Mobiles; Option 2 for 4G WiFi; Option 3 for Home Broadband & EE TV.

ISPs: 1999: Freeserve 48K Dial-Up => 2005: Wanadoo 1 Meg BB => 2007: Orange 2 Meg BB => 2008: Orange 8 Meg LLU => 2010: Orange 16 Meg LLU => 2011: Orange 20 Meg WBC => 2014: EE 20 Meg WBC
by
Northerner

Grand Master
a week ago - last edited a week ago
Hi @Sauljones
Try restarting your device.
This is also a sign of local network issues, so check EE Network Status Checker.
Thanks
---
To contact EE Customer Services dial 150 From your EE mobile or 07953 966 250 from any other phone.

EE standard opening hours are 8am to 9pm weekday, 8am to 8pm on weekends.

by
Leanne_T
EE Community Support Team
a week ago
Hi there @Sauljones
Thanks for coming to the community.
Are you still having the content lock message showing today after trying the steps given?
Speak soon 🙂
Leanne.