Options
Mark as unread

Mark as read

Float to top

Bookmark

Subscribe (email)
by
Wayne_74
Explorer
3 weeks ago
Hi all,

This isn't so much a major issue, more of a small bugbear of mine...

I'm the main account holder and have 3 phones on the account, mine and my 2 childrens. When I go in to gift them data, the app and online website show their "Names" in all dropdown options . However, instead of my name, it displays my phone number. Also, when the confirmation texts go out, they read along the lines of "[child's name] has been gifted 5gb of data by 0780# ######."

Is there a way of setting this so instead of my number, my name is displayed in the drop down menus when in "Data Gifting", and also when the messages are sent out.

Any advice would be great and would stop me stressing over such a trivial thing 😣
Cheers.
1 SOLUTION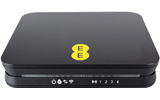 by
XRaySpeX

Grand Master
Solution
3 weeks ago
@Wayne_74 : The MyEE app gets the names from the contact list on your phone. Add yourself to or change your entry in the contact list to have your name against your mobile no.
__________________________________________________________________________________________
If you think I helped please feel free to hit the "Thumbs Up" button below.

To phone EE: The local rate landline number +44 207 362 0200 or Freephone +44 800 079 8586 - Option 1 for Mobiles; Option 2 for 4G WiFi; Option 3 for Home Broadband & EE TV.

ISPs: 1999: Freeserve 48K Dial-Up => 2005: Wanadoo 1 Meg BB => 2007: Orange 2 Meg BB => 2008: Orange 8 Meg LLU => 2010: Orange 16 Meg LLU => 2011: Orange 20 Meg WBC => 2014: EE 20 Meg WBC