Options
Mark as unread

Mark as read

Float to top

Bookmark

Subscribe (email)
Wednesday
Hi,I have just become a customer of EE's services,I have bought a PAYG sim card from amazon and I'm having issues with my 4G.
My SIM plan is the following:
8GB,unlimited calls and texts.
My phone is a Iphone 7,it is not locked to a carrier as I tested my sim,calling and text works perfectly fine,however my 4G is not working.My safari browser comes up with "Could not activate mobile network,You are not subscribed to a mobile data service" and yes my area provides 4G network.
I have done a reset on my network settings, nothing changed, I have switched my phone and off 2-3 times still nothing has changed.
Any other solutions would be helpful and thank you in advance
Highlighted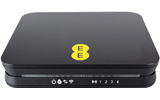 by
XRaySpeX

Grand Master
Thursday
You do have Mobile Data switched ON?
__________________________________________________________________________________________
If you think I helped please feel free to hit the "Thumbs Up" button below.

To phone EE: The local rate landline number +44 207 362 0200 or Freephone +44 800 079 8586 - Option 1 for Mobiles; Option 2 for 4G WiFi; Option 3 for Home Broadband & EE TV.

ISPs: 1999: Freeserve 48K Dial-Up => 2005: Wanadoo 1 Meg BB => 2007: Orange 2 Meg BB => 2008: Orange 8 Meg LLU => 2010: Orange 16 Meg LLU => 2011: Orange 20 Meg WBC => 2014: EE 20 Meg WBC
Thursday
Hi there @verikoko
Thanks for coming to the community.
Could you check your settings to make sure mobile data is turned on, go to Settings, and then Mobile Data.
Can you also check Safari is set to use data within the Mobile Data settings.
Let us know how you get on.
Leanne 🙂
Thursday
Read more
Hello Leanne,yes my safari app was activated whilst on mobile data and I'm still receiving the same message.I turn my wifi off and then activate my 4g,activate safari and nothing is happening. I don't think it's a phone fault but rather my sim card has an issue.
Thursday
Hi there @verikoko
Thanks for coming back to me.
Do we have any problems showing in your area on our Network Status Checker?
Could you also text BALANCE to 150 and let me know the reply?
Speak soon 🙂
Leanne.